February 1st, 2014
Behold, children are a heritage from the Lord, the fruit of the womb a reward.  Psalm 127:3
Thirteen years ago I had the privilege of attending Josh's grandmother's funeral.  Mrs. Bennett had nine children.  All nine children, 43 grandchildren, 16 great-grandchildren, and 3 great-great-grandchildren were present at the funeral.  It was the most amazing, God-honoring service I had ever been a part of.  All weekend I soaked up all of the amazing stories and love that came forth from that one woman and when we left I whispered to Josh,
I want nine children.
Of course I wasn't being literal, but we did say early on that we would love to have a lot of children.  I guess we're doing pretty well so far, right?  Next month we'll celebrate our 12th wedding anniversary.  Any month now, we'll bring our daughters home and we'll have six beautiful, healthy children.
Getting pregnant wasn't something we tried to do for our first two children.  Three months after we were married I found out we were expecting baby #1.  Seven months after Joshua was born I apparently failed at successfully tracking my cycle and discovered we were expecting baby #2.  In 2005 I began having thyroid issues.  After trying to get pregnant for over a year we finally got pregnant with baby #3.  I cherished every moment of that pregnancy.  I no longer took fertility for granted.
Did you know that even the healthiest, most fertile couple only has a 25% chance of getting pregnant each month?  I never knew that until my doctor told me while we were trying to get pregnant a fourth time several years ago.  It has been seven years since I got pregnant with Owen.  We have tried many, many months over the last seven years to get pregnant again, but finally accepted that the Lord gives and He takes away and it became clear to us that my season of childbearing may be over but we were thrilled to add to our family through adoption.  What an incredible blessing it has been.  We still pray every single night that our daughters will be home next month…and then the next…and the next…
We know His timing is perfect.
On December 4th I received a text from a close friend.  This is how the conversation went:
A: Random question:  Any chance you're pregnant?
Me: Haha, I guess anything is possible.  Hasn't happened in seven years, but we sure would welcome it!
…just to be silly, I went to the bathroom and dusted off a dollar store pregnancy from the cabinet.  I intended to take the test and then send her a picture of the negative result…just to say SEE?
Imagine my COMPLETE AND UTTER SHOCK when the test turned positive in about 10 seconds!?!
Me: I CAN'T BELIEVE IT!!  THIS JUST HAPPENED!!! <insert positive pregnancy test…I'll spare you that picture!>
Of course the rest of the conversation was pretty hysterical and resembled that of two middle school girls squealing over the latest breaking news.
I was in absolute shock.  This was not even on my radar.  IT'S BEEN SEVEN YEARS!!  Seven years of not preventing pregnancy.  Seven years of trying, off and on, to get pregnant with no success whatsoever.  I truly never thought it would happen again.  I haven't even kept track of my cycle in ages.  Who knows WHEN I would've realized I was late if it hadn't been for Ashley.  It was a precious moment for the two of us and it was so sweet of the Lord to use her to surprise me with this news.
I'm now almost 14 weeks.  The first trimester was, um, horrific.  I was terribly sick, in the bed, unable to function for weeks.  I also had several scares with spotting.  The first few times were small and normal, but the last time it happened was quite scary.  As a result, I had several ultrasounds during the first trimester and baby is alive and well!  It was absolutely amazing to see how much baby would grow, sometimes double or triple in size from week to week.  The picture below contains ultrasound pictures taken only three weeks apart.  On the left, you can still see the yolk sac, basically as big as baby's head.  The picture on the right was at about 11 weeks (sorry, that one is upside down).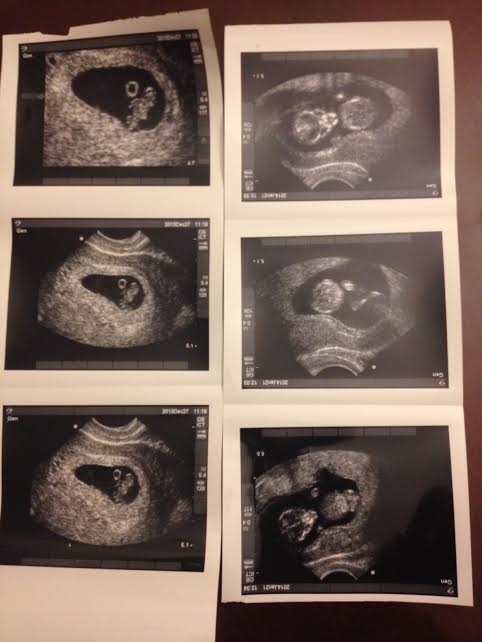 This is one of my favorites.  You can see baby's belly and it's legs are crossed at the ankles.  SO CUTE!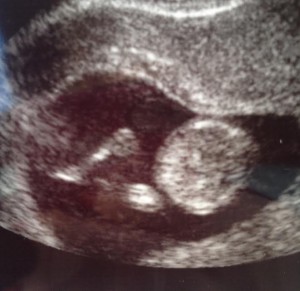 We'll find out what we're having in less than three weeks (if baby cooperates).  We're all very excited to find out if the boys will continue their reign or if the girls will finally outnumber the boys!
We've been overwhelmed by the excitement of all our friends and family.  We're so blessed to be surrounded by people who see children as we do; as an incredible blessing from God–each and every one of them.  Now that the extreme nausea has passed, sometimes I find myself forgetting that I'm pregnant…until I try to button my jeans.  I can't believe we'll have SEVEN children by the fall!!  Will you please continue to pray for our girls, that we would be able to bring them home before I'm too pregnant to travel that far?
More updates soon!
~audrey