October 8th, 2014
We have said many times throughout our adoption journey,
"It is often said, 'It takes a village to raise a child,' but we have found that sometimes it takes a village to bring them home."
The last picture we received of the girls together before they moved to the new children's home: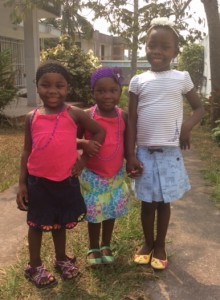 We never could've gotten where we are today without the unimaginable generosity of the "village" God has placed around us.  We often tell people we are at the "tail end" of our adoption but the truth is, we don't truly know.  Right now, the suspension is still in place and our girls have been safely and successfully moved to their new home, along with about 17 of their friends from our agency's orphanage, which now no longer exists.  The wonderful thing about the girls' new temporary home is that Eliana will be able to go to school, all three of the girls will take English lessons twice a week, and we'll be able to SKYPE with them VERY soon!!  On top of all that, our new monthly fees for their home, care, and education is $1300.  This is two hundred dollars less than our agency's orphanage with several new perks.
Unless the Lord intervenes very soon, we will have this new monthly financial burden indefinitely.  While it is a blessing to no longer owe our agency a dime, the thought of having a somewhat permanent $1300 bill added to our monthly budget is something we cannot bear on our own.  We have shaved our monthly budget down to the nearest penny, even to the point of switching our health insurance to save money.  With all of that, we only have $800 in our budget for our daughters' monthly care costs.  We are fervently praying that the Lord would provide a handful of families that would be willing to partner with us for one quarter at a time to help make up for the remaining $500/month.  This would only require a three month commitment and then everyone could decide whether they want to continue to help or stop.  Every single dollar helps, whether you can commit to $10/month or $100/month.
Would you prayerfully consider committing to the last quarter of this year?  We desperately need our village to help carry us through the end of the year.  If you're able to help, you could use our "donate" button to the right of the page and sign up for "recurring payments" for the next three months, or however long or short you'd like.  Or, you may email me at audrey@madetoorganize.com to make other arrangements.
Please feel free to share this post on your facebook page, with your Bible study group, family members, Sunday School class, or even your co-workers.  We know the Lord hasn't brought us this far only to leave us on the final leg of the journey.  Thank you in advance for your prayers and support.  This is yet another chapter in God's story of delivering our daughters home.
P.S.  Annie Rose was born on August 6, 2014 at 2:15am.  She was 7 lbs 5 oz and 19 1/2″ long.  She is a precious ray of sunshine!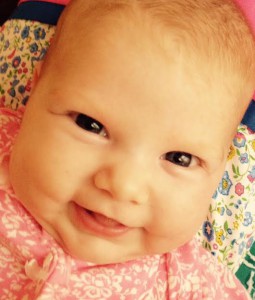 blessings to you,
audrey